Why 2021 will be the year of the modernized warehouse
In 2019, over 70% of warehouses identified modernization as a key pathway to staying ahead of market trends. As recorded in Zebra's 2019 Warehousing Vision Study, warehouse decision makers cited the following as the top drivers of change: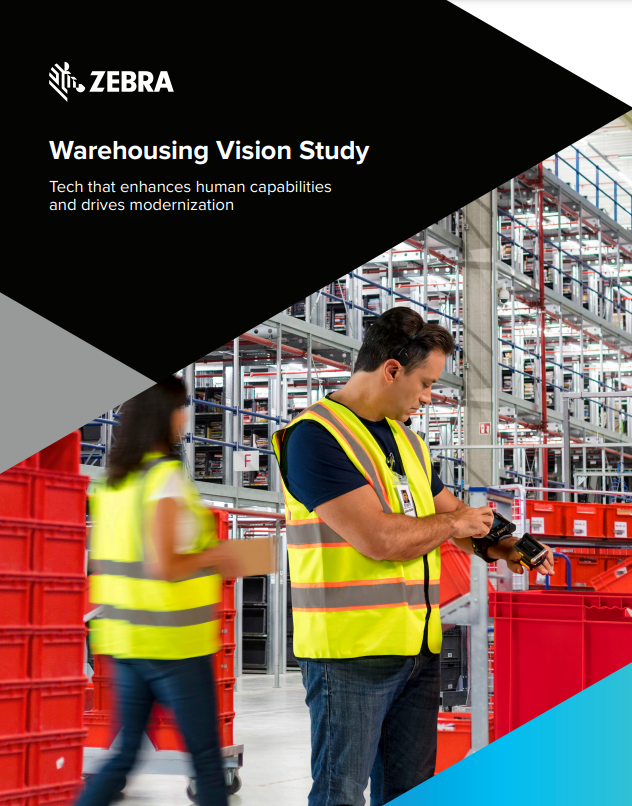 Current IT utilization
Labor recruitment
Labor efficiency
Capacity utilization
Quality of WMS data
Inventory management
While these challenges have yet to be overcome, 2020 brought its own unique demands.
In response to the viral outbreak, supply chains scrambled to meet the ever-increasing spike in online purchases without compromising worker safety. As more customers demanded faster delivery for hard-to-find products, warehouses faced a new set of challenges in addition to the ones from the year before, such as:
Assessing proper PPE deployment
Integrating secured contact tracing without violating employee privacy
Reducing crowd density without reducing workforce size
Cooperating with changing regulations from local, state, and federal governments
Adhering to recurrent sanitation schedules
Balancing Just-in-Time delivery with enough safety stock
Integrating supply chain visibility to react to new demands quickly
While the average labor turnover rate in retail and warehouses reached 38.1% and 33% respectively, bigger corporations saw up to 111% turnover rates as they struggled to accommodate changes without impacting productivity.
Now, with almost a month into 2021, it's clear these challenges won't disappear overnight. Fortunately, for both old and new obstacles, modernization continues to stand as a prime solution to adapt workflows while keeping employees and productivity rates safe.
Why Modernization?
Outdated technologies, such as manual data entry and paper-based systems, leave room for costly errors and inaccurate order fulfillment, which can hinder the customer experience. Moreover, green-screen applications and legacy systems may be harder for your younger workforce to adopt, contributing to labor turnover rates. Lastly, modern enterprise-grade devices are built to address today's high demand with longer battery power, disinfectant-ready casings, dependable data security, long-range data capture, real-time visibility, and more.
3 Cost-Effective Paths to Modernization
Upgraded technologies have historically been more expensive than their legacy counterparts. That's why Data Capture Solutions partnered with leading manufacturers like Zebra Technologies to simplify modernization with:

Rental Program

- To provide maximum flexibility and scalability for your workforce, Data Capture Solutions makes equipment rental easy with one of the largest AIDC rental pools in North America. Whether it's for a week or a whole season, deploy a variety of devices -from handheld computers to mobile printers- produced by your preferred manufacturer. Plus, expect seamless integration with assisted staging and tech support for your leased assets.

Go Zebra Trade-In Program

- As one of the top global manufacturers, Zebra facilitates upgraded with the Go-Zebra Trade-In Program. Get up to $650 cash rebates per device to use towards you next purchase, and trade in technologies from any manufacturer in three steps:

Purchase eligible upgrade
Submit your claim form with Data Capture Solutions
Trade in devices for cash rebates

Choose from a variety of mobile and industrial-grade devices built to endure rugged work conditions, such as extreme temperatures, higher drops, and constant disinfecting. Lastly, simplify your migration to Android as all new devices come with pre-installed Android for Enterprise and assisted green-screen conversion app, All-Touch Terminal Emulation.


Workflow Assessment

- Because every operation is inherently unique, your workflow may need a preliminary assessment to identify bottlenecks and areas in need of improvement. This allows you to prioritize departments and scale your modernization strategy to start with crucial devices -such as handhelds- and later add larger changes -like RFID locationing.
To get started with any of these initiatives, reach out to our modernization specialists and see which option best matches your needs.
In 2021, your warehouse can't afford to pass up modernization.
See why with Data Capture Solutions